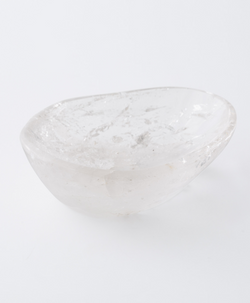 Sefte
Medium Clear Quartz Freeform Bowl, 5" x 4"
Clear Quartz Freeform Bowls
Allow the balancing energy of clear quartz to bring greater clarity to your home in these freeform clear quartz bowls.  These are the perfect vessels for storing from the smallest to the largest of treasures.
Medium, Dimensions 5"x4"
Origin: Madagascar
Due to the unique nature of these one of a kind hand-selected natural pieces, the exact color and clarity received will vary which only adds to its uniqueness. This item is food safe for dry food only. To clean, use a slightly damp cloth and dry fully.